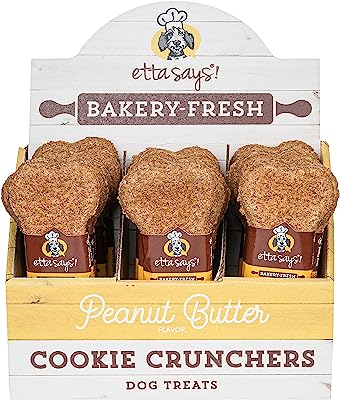 Etta Peanut Butter Cookie cruncher (one dog biscuit)
$ 1.50
Availability: Unavailable
Description
PEANUT BUTTER INGREDIENTS – Whole Wheat Flour, Wheat Bran, Peanut Butter, Canola Oil, Rolled Oats Roasted Peanuts, Eggs, Cinnamon, Mixed Tocopherols (a natural preservative)

ETTA, HEAD OF THE HOUSEHOLD - The literal translation for Etta is "Head of the Household". Etta Says believes that most dogs are the head of the household and therefore deserve the highest quality, best tasting treats.

COOKIE CRUNCHERS – Bakery fresh cookie crunchers are made from scratch with natural ingredients. Limited ingredients and made in the USA

100% USA MADE DOG TREATS – Etta Says is proud to use 100% USA ingredients and products sourced from American Farms.